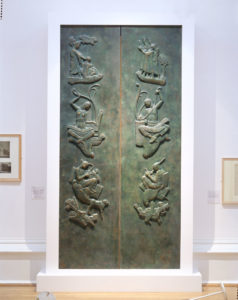 These plaster doors are in the collection of the Walker Art Gallery (National Museums Liverpool) but are not currently on display. The original doors, made of bronze, were first installed at the Hardman Street school building extension (1932), and taken to the Wavertree building when Hardman Street closed in 1958. They currently stand on display in the entrance of the Wavertree School.
They were created by English sculptor James Woodford (1893-1976) and depict manual trades that took place at the school. Sculpting manual trades was a theme of Woodford's other major works such as the doors of Norwich City Hall and the doors of the Royal Institute of British Architects.
The basket is a large, hinged laundry basket created by students at the school and donated to Museum of Liverpool. Basket weaving was a trade that
was taught in the school from 1791. Henry Dannett, the school's founder wrote in 1793:
"The basket manufactory, though less profitable (than whip making), is in one respect, more useful. Blind men who come from a distance may be taught in the course of two or three years to make good baskets and hampers, and may then return to their friends to gain a few shillings weekly, following their employment at home."
A willow plantation in numbers
This trade was made easier to facilitate in 1798 when a large plot of land was donated to the school for willow plantation. the land was given to the school by Reverend Mr Formby. The land was 'Three Cheshire acres' around six acres. 100 tons of manure was delivered to the site ready for planting and 60,000 willow trees were planted.