Here are some images from HOP's second foray into making art and crafts with visitors to the Canterbury Medieval Pageant. (You can see some of the work from 2016 here).
Printmaker Fae Kilburn was among the artists this year. She says:
"I've found the HOP project really interesting, I've been following the stories as they unfold across all eight venues and as a disabled person it's been great to see that people with disabilities had a positive role in history, normally you only hear about disabled people being locked up in asylums in history,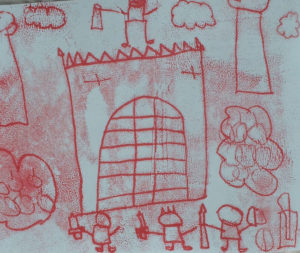 HOP is changing this.
"We had a great mix of ages and abilities participating in the mono print workshop from babies to adults, who were all enthusiastic and very polite and the room was full of energy."