Dear Drennan: our participative digital experience set in the grounds of Chiswick House, London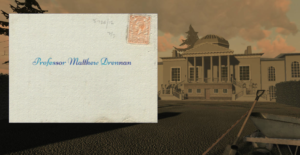 Launch here to play Dear Drennan
Set in the early 20th Century, explore Chiswick House whilst it was in use as a Private Asylum. Known for its humane treatment of patients, this digital experience, which comes with audio, BSL and close captions, invites you to explore this fascinating story of the house and gardens
The Story of Helen: our participative digital experience set in the 13th century
Launch here to play The Story of Helen
Set in 1236, and based on what we know about a life lived at Maison Dieu, we have created a digital experience, which comes with audio, BSL and close captions.
Follow Blind School founder Edward Rushton in a voyage through his early life
Start the game here to follow Edward Rushton from the experiences on a slave ship that made him a lifelong abolitionist, to his time in 18th century Liverpool. Can you make the right choices to enable him set up the first Blind School in the country? Learn more about Edward's life in our blogs The founders of the blind school and Unsung: remembering Edward Rushton. And read more about the long history of the School for the Blind in our narrative timeline here.