Dear Drennan: our participative digital experience set in the grounds of Chiswick House, London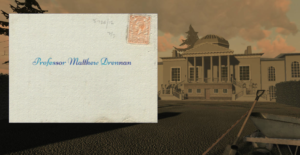 Set in the early 20th Century, explore Chiswick House whilst it was in use as a Private Asylum. Known for its humane treatment of patients, this digital experience, which comes with audio, BSL and close captions, invites you to explore this fascinating story of the house and gardens
The Story of Helen: our participative digital experience set in the 13th century
Set in 1236, and based on what we know about a life lived at Maison Dieu, we have created a digital experience, which comes with audio, BSL and close captions.
Our Guild: young people respond to the story of the Bristol Guild of the Brave Poor Things
Audio guide and 360 degree film for 'The Blind School: Pioneering People and Places'
Our exhibition about the School for the Blind at the Museum of Liverpool closed in May 2018. However, we have preserved part of the exhibition in digital form. You can listen to the audio guide directly below: after a short introduction giving orienteering for people at the museum – and to highlight particular objects – much of the story is told by actors. They revive voices from people over 200 years of history, from 18th century founders to pupils evacuated from Liverpool to Wales during the Second World War. Below this, you can experience our 360 degree film of the exhibition.
Writers for this audio were Amy Evans and Pat Hayes. The actors are Jordan Connerty and Beth Hinton Lever. It was recorded by Thinking Film.
Audio guide to Brave Poor Things: Reclaiming Bristol's Disability History
This audio guide was written and performed to accompany an exhibition at MShed, Bristol, which runs until April 2018. It has some references to objects and people shown in the exhibition, but also works by itself. You can read more about the exhibition here, and look at photographs from the Guild at around the time of the First World War here and here.
Visions: a short film about The School for the Blind
The very short version: