History of Place is looking for deaf and disabled people to be involved in digital gaming workshops. These workshops will explore the themes of pilgrimage and disability in medieval England. Working with Maison Dieu in Faversham and archives from other historic places on the pilgrimage route to Canterbury, we will be developing a digital gaming experience to tell this story.
Taking place at The Beaney in Canterbury, the workshops will be an interactive opportunity to discover this history. Using archive material and stories from the Canterbury Tales, you will get to learn about the history of disabled people in medieval England and shape how we can use digital games to tell this story.
The project is funded by the Heritage Lottery Fund and is telling the story of deaf and disabled people over the past 800 years through working with eight historically significant places across the UK. Having already created two games based around stories of deaf and disabled people in Bristol and Liverpool, we are keen to explore this further in Kent.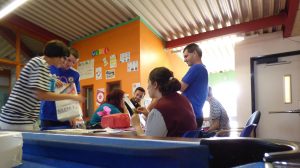 No coding or game design skills are needed, just bring your imagination and be prepared to have fun!
The finished game is scheduled to be launched as part of the Canterbury Medieval Pageant in July, 2018.
How to take part
Location: The Beaney, 18 High St, Canterbury, CT1 2BD, (reasonable travel expenses can be covered).
Who: Workshops are most appropriate for people over the age of 13 and are open to all, but we are particularly keen to engage with disabled people.
Access: Full details of the accessibility of the venue can be found here: https://canterburymuseums.co.uk/accessibility/
If you have any specific access requirements, such as needing a BSL interpreter, please do let us know.  
To book a place on one of the workshops or for more information, contact katieann.smith@accenutateuk.org